Stress-Free Holiday Shipping Tips
Did you know the United States Postal Service (USPS) expects that Americans will send more than 19 billion cards, letters and packages between now and January 1, 2016?  Holiday shipping is one of the most popular ways to get your gifts to your customers and loved ones near and far.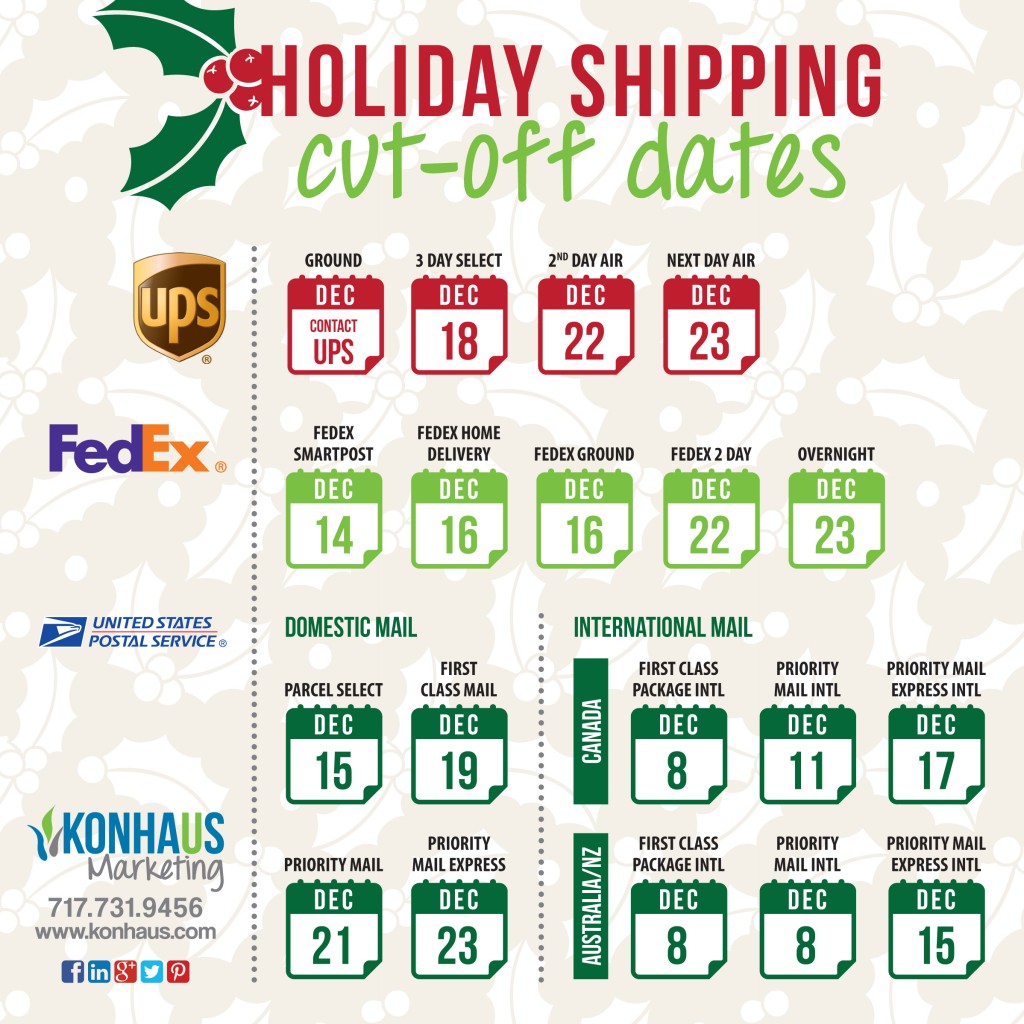 Packing Tips and Tricks
– If you're reusing a box, make sure it's free of creases, torn flaps, holes, and corner dents. Don't forget to completely remove any old labels to avoid sending it elsewhere.
– If you want to score free shipping materials,  you can order free Priority Mail USPS boxes, free FedEx supplies, or register at UPS for access to free supplies.  Don't want to order online?  Stop by your local post office for Priority Mail USPS boxes.
– Use the rattle test to make sure your gift is secure.  If you hear it moving around in the box, stuff newspapers, peanuts, or even sandwich bags filled up with air to keep your gift in place and damage free.
– Stick to packing tape.  Any other kind of material may not hold up on your package's journey, or could get caught in the package processing machines.  Also, tape all seams of the package for extra security.
– If you're sending electronics, take the batteries out and wrap them separately.
– Don't just write fragile on the box and hope it magically makes everyone who handles it extra careful.  You're in charge of making sure it's secure and well packaged.  It's the delivery person's job to make sure it gets to the recipient.
Shipping Tips and Tricks  
– Certain items can not be mailed.  Check out the USPS restricted items list, Fedex hazardous materials shipping list,  and UPS guide for shipping hazardous materials  to be sure that your item is safe and appropriately packaged to ship.
– Timing is everything!  The faster you need your item to get to someone, the more it's going to cost.  Start early to ensure your boxes of cheer are delivered on time.  See graphic above for cut off dates from each shipping provider.
– Address the outside of the box clearly and also include the address inside the box just in case the outside of the box gets damaged.
– All major shippers also offer free tracking. Just go on their website with your tracking code and you can see where your package is on its journey.
Helpful USPS Links
Order Free Priority Mail USPS Boxes
Buy Holiday Stamps
Find a Post Office Near You
Lookup A Zip Code
Track Your Packages – USPS
Helpful FedEx Links
FedEx Rate Calculator and Transit Times
Track Your Packages – FedEx
Order FedEx Shipping Supplies
Find a FedEx location
Helpful UPS Links
Track Your Packages – UPS
Find a UPS Location
UPS Rate Calculator and Transit Times
Speaking of holidays, have you worked on your holiday cards yet?  If not here's some advice on How to Take your Holiday Cards to the Next Level. If you're cards are already in the mail, try some of these Marketing Ideas You Can Steal This Holiday Season!
Have a simple, safe, and happy holiday season!