You want your marketing to reach the right people. That's why we provide mailing list management to keep your list in tip-top shape, as well as mailing lists you can purchase to get connected with your ideal audience.
Mailing List Management
Our mailing list management services help you:
Save money on both printing and postage
Retain past customers/donors
Increase deliverability
If you're not actively managing your list, you could be throwing away countless marketing dollars delivering materials to erroneous addresses, customers who've moved, or duplicate addresses! Quit wasting your valuable resources and let us help with the following:
Verify your mailing deliverability with DPV (Delivery Point Validation).
Update your list with new street names and addresses straight from the 911 database through Locatable Address Conversion System (LACS).
Correct misspellings and incomplete info and help qualify you for discounted postage rates with CASS (Coding Accuracy Support System) Certification.
Eliminate duplicates so you're not spending twice as much to reach one person.
Update address changes so you can still reach someone after they have moved through the NCOA (National Change of Address) database.
We'll even send all of these changes back so you can update your own records.
Check your list against the National Do Not Mail, Deceased + Incarcerated records.
Purchase Mailing Lists
The right mailing list accounts for 40% of the success of your direct mailing! Whether you're looking to do a broad mailing or target a very specific group, we've got the mailing list for you!
We have access to all types of lists, including: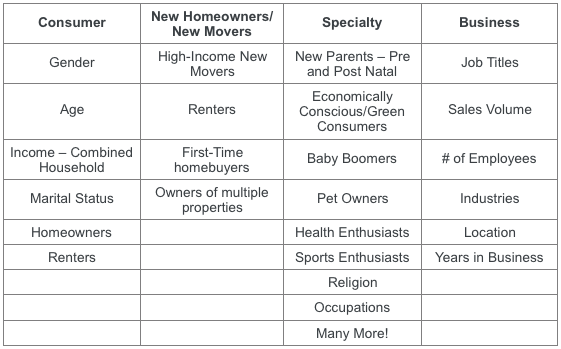 Is your specific target audience not on the list? Don't hesitate to contact us. We have access to more than 210 million consumer profiles to meet any of your marketing goals. With every list you purchase, we run it through our list management database to ensure the best deliverability!