Like it or not – the holiday season is quickly approaching.  Not only does that mean it's time to start gift shopping for all of your friends and family on your list, but its also time to start thinking about sending holiday cards to clients, colleagues, and vendors.
Why should I mail holiday cards?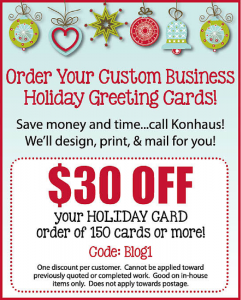 Appreciate Your Customers and Prospects:  Every one of your customers wants to be appreciated.  The holidays are a great time to say thank you for the past business you have received from them.  Prospects can easily be turned into customers by simply thanking them for learning more about you and your business while wishing them a happy holiday season with family and friends.
Reestablish Business Relationships: Sometimes you lose touch with clients and customers throughout the year.  Sending holiday cards allows you to create stronger relationships with your customers, even the ones that may have accidently slipped through the cracks.  This relationship renewal is especially important when you reach out to past customers in the New Year, because you will have made recent contact.
Top of Mind Awareness:  This is a big one!  Creating top of mind awareness with your customers and prospects when they are surrounded by their closest friends and family is an essential step in your follow up and referral strategy.  If you are top of mind with your customer or prospective customer they are more likely to mention you and your business in conversation or recommend you for a potential referral.
Did you know at Konhaus Marketing we can design, print and mail them for you?  We can even save you money on postage if you mail to more than 200 people!  Let us help you plan the PERFECT holiday message for your company this year and get a jumpstart on your holiday greeting cards!  We'll free up your time so you focus on your business.  Give us a call at 731-9456 today!