4 Secrets to Creating Powerful Print Ads
By Mary Clayton, Digital Marketing Manager
Do you look at your print ads and feel inspired?  It's so easy to get caught up in so many marketing to dos that you find yourself just running the same ad every time in every publication.  What you didn't know is that old ad might be okay to keep your brand out there, but it's killing your ability to bring in new business.
Whether you're placing your advertisement in a newsletter, magazine, or newspaper, your objective stays the same – grab the reader's attention!  Sounds easy enough, right?  No worries, I've got your back with these tips.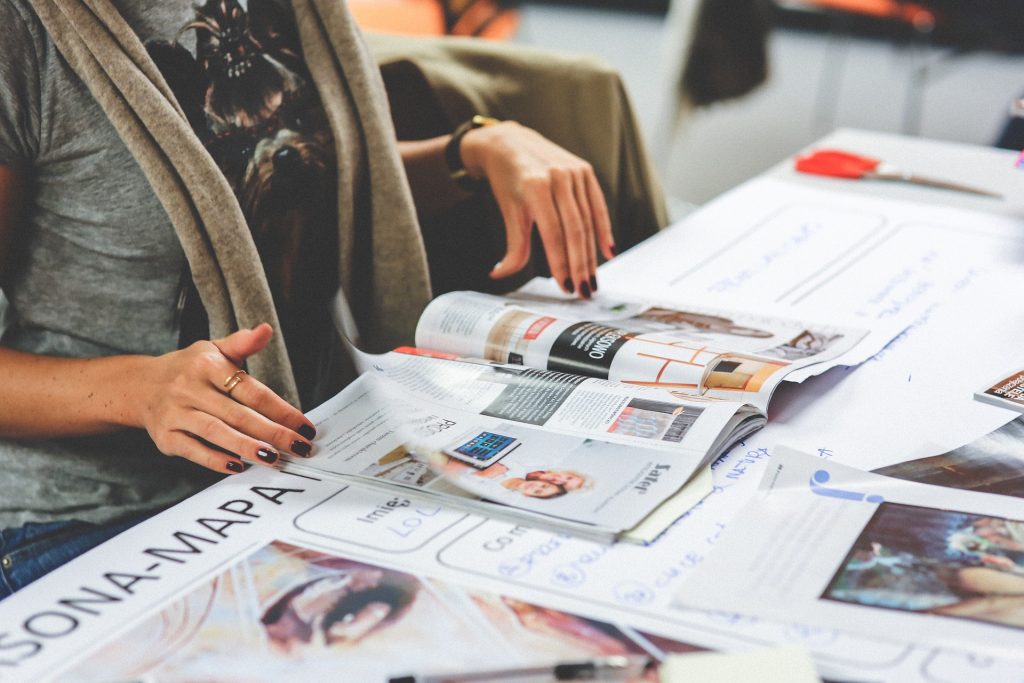 Know Your Audience
One way to waste a ton of money is not to think about who you want your advertisement to reach.
So many businesses and nonprofits renew advertising space without considering if the readership matches who they want to target.  Don't know where to go?
Local residents

–  Place ads in your local papers, church bulletins, and magazines.

Businesses and professionals

– Consider advertising in a business newspaper, or through your professional associations like a chamber of commerce.

Specialized Industries

– Find specific industry newspapers, newsletters, and magazines.

Look at your list of print ads and figure out if there are better options.  The more specific the audience, the higher the advertising price but also, the greater the reward since you're reaching more people within your target audience.
Consider Your Ad Size
Any time you decide to step away from the traditional, you'll get the eyes of the reader.  Small advertisements may go unnoticed in the sea of words, photos, and other ads.  Large advertisements can catch the eye quickly, but you'll still have to back it up with something to keep them interested.
So is it better to have a bunch of tiny ads or a few big ads?  If you're looking to make an impact, go with larger ads.  If you want to ensure you are in front of eyes for a longer amount of time, stick with smaller sizes.
Focus on a Single Message
No matter the size of your advertisement, less is more!  You want to give your reader a brief impression of who you are and what actions they should take. Although you may offer many different products or services, focus on one aspect of your message per advertisement.  The more information your ad contains, the muddier your message may become.
The secret to a powerful print ad is focus.  Focus on your customer.  Focus on how you can help enrich your customer's life. Focus on what sets you apart from your competition.
Carefully Craft Your Call To Action (CTA)
Your CTA is the most important part of your advertisement because it's what connects your message to the action you want your reader to take. To have an amazing call to action, you need to explain to users how they'll benefit.  Remember to start off strong and make it enthusiastic!
Here are some examples
Discover The 9 Secrets to Cutting Your Print Costs
Don't Be Scared! Read These 6 Quick Tips for Shy Networkers
Finally Take Control of Your Email Inbox
Download Your Free Marketing Checklist
Track Your Success
You've spent the time and money making a great advertisement, don't let it fall flat by not measuring your response rates.  Depending on your CTA and ad, there are plenty of ways to test how effective your campaign was.
Ways You Can Track Responses
Physical Coupons in advertisements

Alternate phone number

Unique email address

Landing page visits

QR Code Scans

Increased traffic
A great rule of thumb for your advertising is to treat your ads like a salesperson.  Make sure you give them professional tools they need to succeed like top-notch graphic design, well thought out copy, and tracking methods.  If they aren't performing well, you need to evaluate, change your approach, and sometimes dismiss underperformers.
Don't want to do it alone?  We can help a little or a lot!  Everything from creative to ad management under one roof. Shoot sarah@konhaus.com an email for more info.