You always want your materials to look polished and professional.  What you may not know is that you don't have to break the bank in order to get great print quality.  Save money on your next print job by learning these 9 secrets to reduce your print costs.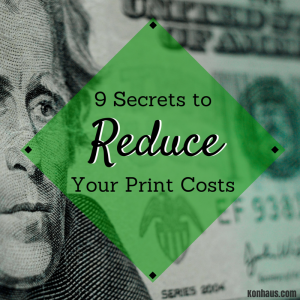 Mailing List – Did you know that 42% of all businesses make no effort to measure the quality of their data?  What's the harm in this?  If you haven't checked your mailing list, you've wasted more than half of the entire cost of the project (including printing and postage) on a message that won't make it into the right hands.

Streamline Design –  The surefire way to make sure that your final piece is fast, cost-effective, and beautiful every time is to use an in-house graphic designer.  Keeping your print and design in the same place saves you money, shortens production time, and assures you get the best results.  Designers that work for printers know the best ways that design can save you money and are able to get the right file-the first time.

Digital Printing – Digital printing can save you money on small to medium sized print projects.  Our new digital press has great full-color capabilities on flyers, business cards, booklets and even full-color envelopes.

Print the right amount…the first time – If you're going to need more of your print piece in the future it will always be cheaper to order a larger quantity at once.  This way you'll get the best price per piece because you're buying larger quantities and you wont have to pay multiple set up fees.

Proof, Proof, Proof –  Many times mistakes like typos, bad dates and wrong captions can be avoided. Make sure you carefully review your material multiple times before submitting it for print.  After looking at a piece multiple times, it's important to get a different set of eyes to read over final proofing documents.

Standard Sizes Save you Money – Because of the way that printers run materials on the press, there are certain sizes that are more cost effective. Check with your printer for their cost effective sizes before you begin design to save the most money.  Also when mailing, envelopes with standard sizes are the most cost effective.

Bleed vs. No Bleed – Bleed is when your colors and graphics go all the way to the edge of your project.  Margins will generally save you money.  If your piece can have a white ¼" margin, there will be less paper waste, decreasing the price.

Use a professional printer – Many businesses and organizations will try to print their materials on their office or home printer.  This is a costly misconception because home and office printer ink costs between $13-$75 an ounce.  Depending on your print materials, you could be paying 5x more for your piece in ink alone!  This doesn't even take into account the wear and tear on your machine or cost per click.  Before considering doing it inhouse, give your print shop a call and get a price – it can save you tons of time and money.

Follow Us – Want to save even more?  Follow us on our social media websites at the top of the page and sign up for our once-a-month email newsletter below to get exclusive discounts, coupons, and giveaways!
We're not a cookie-cutter print shop.  We always give you our personal attention from the custom quoting process and beyond when you receive your finished materials.  Every job and customer is unique – so don't be afraid to ask us for advice.  We love helping our customers save money and get results!