How to Boost Business with Spooky Marketing
Even though temps are still high here in Central PA, the Halloween season has begun. Stores are stocking seasonal aisles with candy corn and costumes.  That means you need to switch marketing gears to the Fall season.  What better way to do so than to have a few marketing tricks and treats up your sleeve to promote your business this Halloween!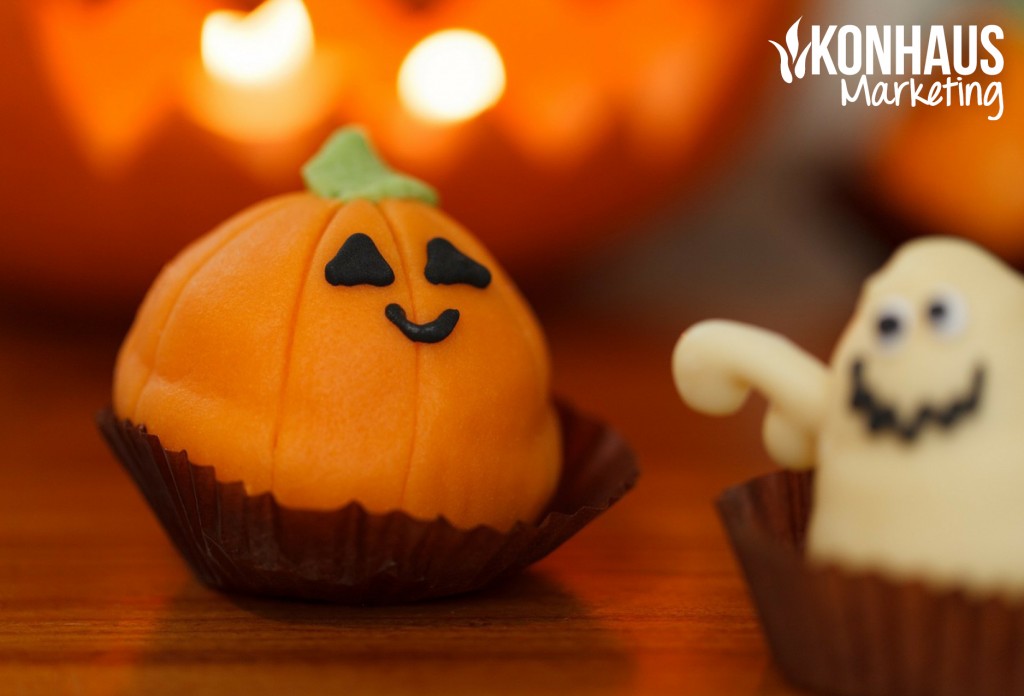 Coupon Book – Boost your sales by handing out or mailing a coupon book to your customers and prospects.  Make the savings last by extending offers through Thanksgiving or the end of the year.  You can use your offers to drive business to a certain area or specific products.  Your coupons don't always have to be dollar amounts or percentages off of an order.  You can always offer a free gift with purchase, or an entry into a drawing when they come to your location.  
Give 'em a Sweet Treat – It's the season for candy, so why not use it as an opportunity to get your message out there?  You can get individually wrapped hard candies or mints featuring your logo for branding purposes, or if you want to include an offer or more information, consider getting printed candy wraps for chocolate bars, rolls of hard candy, or even fun sized candies.  The best part of getting branded candy is that after the holiday,  you can still use the leftovers to bring a smile to your clients and customers.
Host a Halloween Contest – Host a contest to get your customers involved!  It can be a pumpkin carving contest, a costume contest, or a fall decorating contest.  Announce your contest by sending your in-house mail list an oversized postcard featuring the contest and rules.  Use a QR code or Augmented Reality on the piece to instantly connect it with your social media sites, where you can ask them to post their photos and videos.  
Offer a Scary One Day Discount – What's scarier for a customer or potential customer than paying full price? Offer an unbelievable discount that will last just one day.  Send your customers and prospects an envelope with a rack card about the deal and use some reverse psychology on your envelope teaser with phrases like DO NOT OPEN, BEWARE, or OPEN IF YOU DARE.  Make sure you print plenty of rack cards, because they'll do double duty on counters an you can include in orders and mailers up until the day of the sale.  Don't forget to give your followers hints about the big sale on your social media.
Trick or Treat Handouts – Promo products make great giveaways for trick or treaters.  There are a wide range of products you can give out that are both fun and functional.  A great way to stay top of mind is to focus on Halloween safety.  Order logo safety products like flashlights, glow sticks, blinking buttons, or reflective treat bags to make sure kids and parents are visible and safe during trick or treat night.
Host a Spooky Haunted House Ticket Giveaway – Purchase some tickets to a local haunted house, hayride or corn maze to give away.  Wondering how you can choose who wins?  There are a bunch of low key contests you can do like guessing how many candy corn pieces are in a container, a countertop raffle,or  entry with purchase of a certain amount.  Spread the word about the giveaway by printing bookmarks or flyers, including it in your email signature, onsite signage, and through your social media pages.  Remind everyone to share the contest with a friend to help spread the word!  
Related Articles
Top 25 Envelope Teasers
Marketing Fall Holidays
Printed Coupons are a Valuable Tool for Business
Don't be afraid to switch up your marketing for Halloween!  Scare up some business this Fall by branching out into spooky marketing!  If you need any more spooky ideas, feel free to comment below, email us at info@konhaus.com or ask us on Facebook or Twitter!