Fall is the season of change and color.  It's the time of year when leaves turn, crops are harvested, and marketers begin frantically planning for the Christmas season (which seems to come earlier and earlier each year).  Take a moment to think about the plentiful marketing opportunities that Fall offers.  Here are a few ideas you can use to plan your fall marketing around these holidays and events: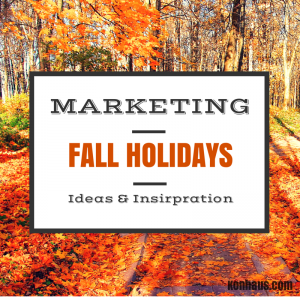 Columbus Day – Help potential customers discover great savings you're offering by sending an Every Door Direct Mail (EDDM) postcard to residents near your location.
Halloween – Scare up some business by printing business card sized coupons redeemable for swag like a branded recyclable grocery trick or treat bag, custom candy bar wrappers, or a travel coffee tumbler.
Veterans Day –  As a special thank you, offer a freebie, special coupon or an additional discount to those who have served or are currently serving in the military.  Spread the word by printing flyers and posters with your offer.
Thanksgiving –  Show your current customers you appreciate them by sending them a Thanksgiving card with well wishes.  You can even include a coupon offer or Thank You discount.
Trade Shows – Gear up for trade show season by having a professional booth that draws attention with branded signage, giveaways, and materials.  Make your promotional items fun and useful for your customers.
Black Friday – Offer a special on gift certificates, early bird discounts, and exclusive day of offers that people can't refuse.
Cyber Monday –  Send a postcard to your customer list and enhance it with Augmented Reality so that recipients can have instant access to shop your website from their tablets or smartphones.
Fall Fundraising –  If you're a nonprofit – In your annual appeal letter, make sure that you're explaining how their contribution will be used and how it is benefiting others, not your organization.  If you're a businesses – Partner with a local nonprofit organization and promote their mission and how you are getting involved in your newsletter, before, during, and after your donation, volunteer effort, or event.
No matter how you market fall holidays, having a print partner that can do it all will save you time.  Comment below with your ideas for bringing in business this fall.  Give us a call to create the perfect fall marketing campaign or to order swag material!  Make sure to follow us on Facebook and Pinterest for more fall marketing inspiration!