By Makenna Dively, Client Services Coordinator
You've spent so much time and effort making the perfect marketing plan, and you finally attract those new customers you wanted. So now what? How are you going to keep them coming back? Loyal customers are key to the success of a business. Not only does this mean they will continue to use your products or services, but they will most likely refer others to you as well. Going above and beyond with excellent customer service is a way to stand out from your competitors, and retain business.
Here are some of my favorite simple yet effective tips for top-notch customer service.
Make time for the customer. This one may seem like a no-brainer, but it might be harder than you think. We live in such a busy environment that sometimes you can't help but feel the pressure to get back to your work. But take the extra few minutes to have real conversations with your customers when you see them. Ask them questions, listen to what they say, and then continue to use that information to help build a quality relationship. Customers don't want to feel like they are just another transaction, so make them your top priority.
Thank you notes and packages. We all know how good it feels to be appreciated. Why not put more effort into showing your customers you appreciate their business? Send a thank you card after an order or a meeting. Not just a follow-up email, but a printed card, with a hand written message sent by snail mail! If you want to go above and beyond to make a good first impression with a new customer, send a package of branded promo items after your first meeting, or after their first order for an extra boost.
Communication is key.  Try to respond promptly to emails and missed calls. When you are getting close to having 20 or 30 unopened messages, it's probably time to tackle the inbox monster so you don't get too behind. It can easily happen and your customers typically understand this, but they also don't want to wait forever to hear back from you. Now more than ever our society has an instant-gratification mentality. It is best practice to give a response within 24 hours so your customer knows they are important to you.
Address problems head on.  We don't like to admit it, but nobody is perfect. If there is a problem or a mistake with your product/service (and there probably will be at some point) don't try to ignore it or brush it off. Even though the customer may not be the happiest in that moment, they are not lost yet. Come up with a plan to turn these negative experiences into positive ones. This shows that you stand by your company and truly want the best for the customer.
Keep in touch.  Actively look for ways to touch base with your customers. Are they celebrating a major milestone? Do they have an upcoming birthday or work anniversary? Did they just have a successful event? Reach out to congratulate them or wish them well. A quick email or note keeps communication lines open, and shows that you care about keeping your relationship with them.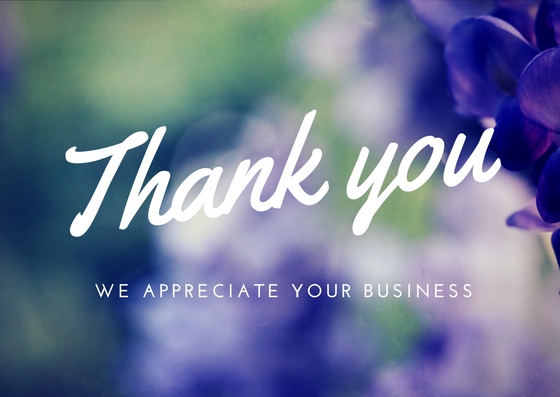 (How nice would it be to receive a card like this in the mail?!)
Customers seek more than just a product- they want an experience. Great customer service is just one way to create an experience clients will keep coming back for.