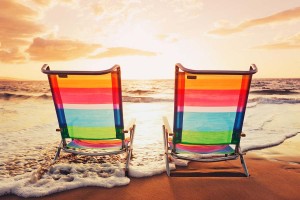 Summer sees a complete change in customer mindset.  Everyone seems to be more relaxed in the Summer months because days are longer, giving people more time to spend with their friends and family.  Summer activities like barbecues, swimming, and vacations leave people feeling refreshed.
Just because it is Summer doesn't mean that your business can take a vacation from marketing.  This is a great time to think outside of the box and refresh your marketing!  Try something fun and new to shake up your marketing mix and reach your customers in new ways.
Here are some ideas to help get momentum going with your Summer marketing:
Show Appreciation
Embrace appreciation for your donors, customers, and clients.  Invite customers, employees, volunteers and donors to an outdoor appreciation event like a cookout with branded napkins, cups and goodie bags.  If you don't have time for an event, purchase tickets to local events and outings for those who go above and beyond for you!
Summer Themed Promotional Items
47% of people keep promotional items for a year or more!  Some of the most utilized Summer promo products are water bottles and cost effective drink coozies.  While these are great options, use the fun of Summer to mix it up a bit by branding yourself on sunscreen, lip balm, beach towels, or even reusable red solo cups!
All-American
Get your red, white, and blue on this Summer!  People like to do business with organizations that share their values.  Have special offers, discounts, or events for active duty military personnel and veterans.  Spruce your location up with some patriotic decor like red, white, and blue flowers or patriotic designed banners.
Embrace the Outdoors
Communities tend to come together with all types of events throughout the Summer months.  Festivals, concerts, and carnivals are just a few of the local events that take place during the Summer.  Consider sponsoring or partnering with an event to get your logo out in your community.  If you can't sponsor, consider getting a table or booth space during these events where you can engage with the audience through materials, giveaways, and games.  Before the event consider sending an Every Door Direct Mail piece to surrounding neighborhoods inviting them to see your booth.  Don't forget the outdoor banners and signage to give your booth a professional look!
Summer is a great time to refresh your marketing approach!  Give us a call at 717-731-9456 for more ideas to make your marketing sizzle this Summer!