By now we probably all get that social media is a very important part of today's marketing. But if you don't use social sites much personally, you might be a little hesitant to start using them professionally. If you are panicked with questions like – 'Where do I post?' 'How often should I post?' 'How do I do this?!' Don't worry! Everyone starts somewhere, but you just need to start! Once you consistently post for a little bit, you will be able to learn from your social media analytics. You can better understand how your audience consumes your messages and what they are engaged with. (Analytics.. what? You can learn a little more about analytics here https://konhaus.com/social-media-analytics/ )
To help spark some ideas, we created example posts from a fictitious coffee shop. Doesn't Konhaus Koffee sound so good though? We included tips on how often you should post, and a brief description of what each channel is best used for. The below is a just guide to help get you started or get back on track if you are feeling lost – this is not the only way to post online.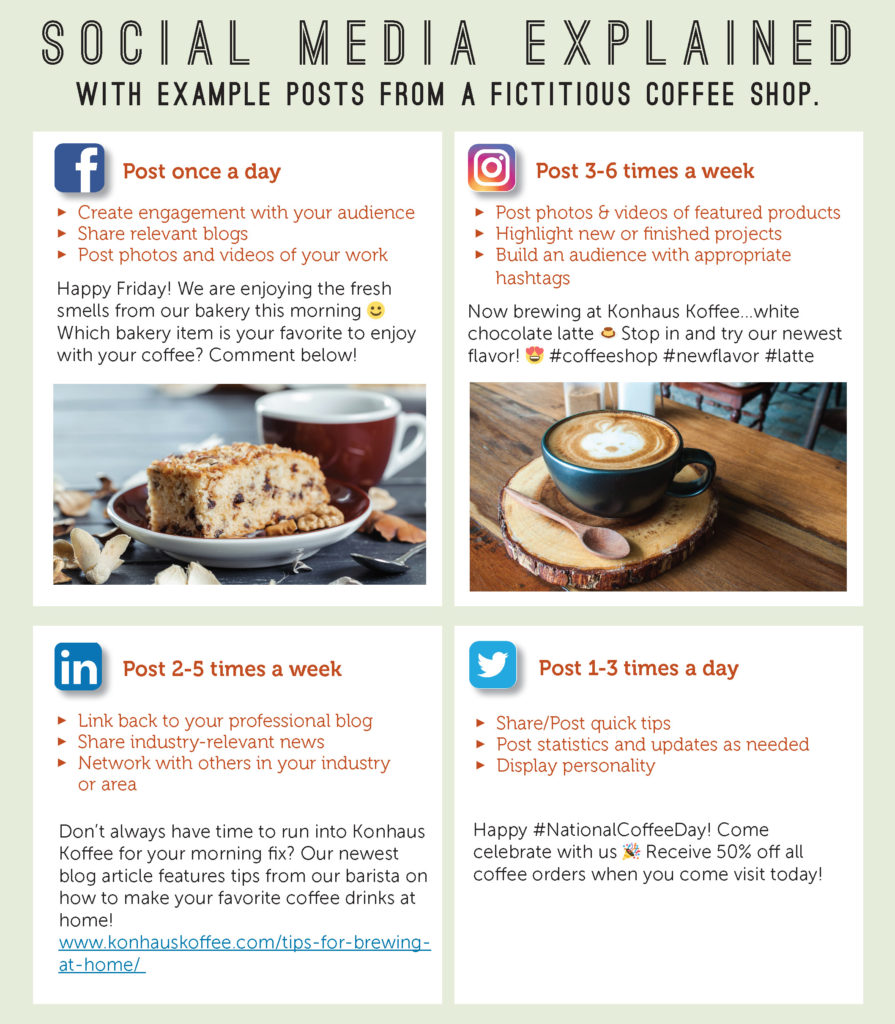 More Tips
Something to keep in mind when creating content is to act like a consumer. Ask yourself if what you are posting is something you would like and find value or entertainment in if you were scrolling online. With so much content available to us, it is important to be engaging, informative, and post things your customer want to see.
Again, once you start your social media presence you will be able to build it and learn more. It can take some time to grow online, but just make sure to stay true to your brand and keep it consistent. You got this!
For more Facebook post examples, check out our page! https://www.facebook.com/KonhausMarketing/