Kyle's Favorite Handwritten Fonts
By Kyle DeMartyn, Creative Director
Want to know a sure-fire way of grabbing attention?  Use a handwritten font!  There's no doubt that people will give handwritten fonts a closer look because they draw your eye and instantly feel more personal to the reader.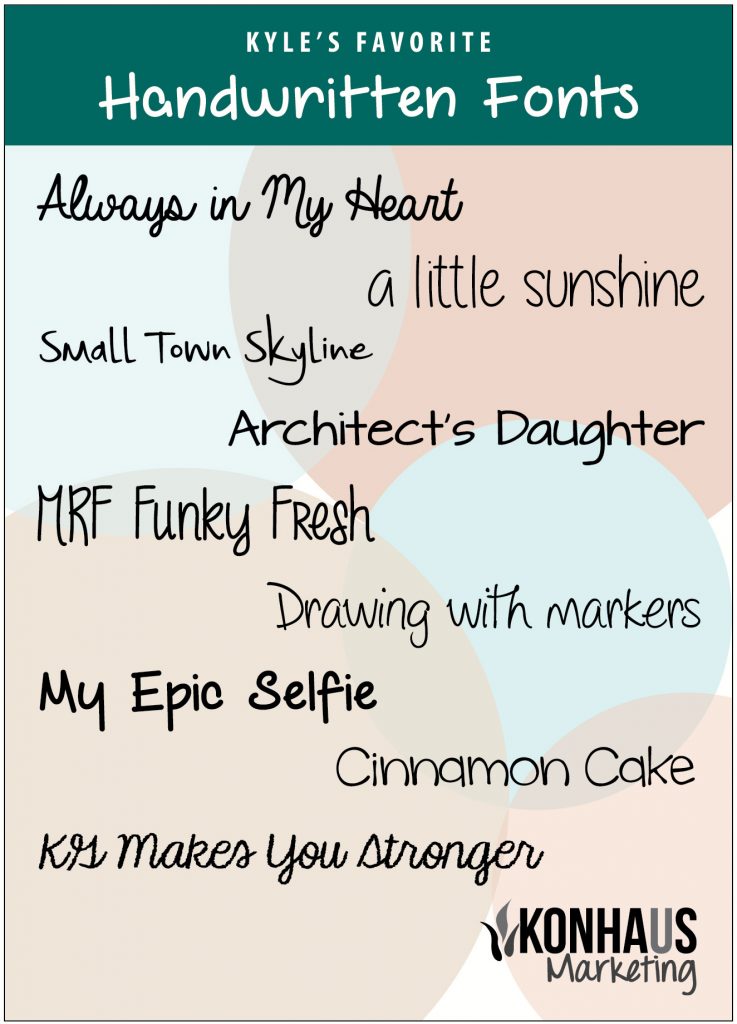 Best places to use handwritten fonts:
The address line of your direct mail piece

The call to action in your marketing materials

As your envelope teaser

In the headings or subheadings of your newsletter

When writing names in marketing pieces
Want to try a handwritten font in your next marketing piece?

Here's a list of my favorite FREE handwritten fonts!
Always in My Heart
https://www.dafont.com/always-in-my-heart.font
A Little Sunshine
https://www.dafont.com/a-little-sunshine.font
Small Town Skyline
https://www.dafont.com/small-town-skyline.font
Architect's Daughter
https://www.dafont.com/architects-daughter.font

Funky Fresh
https://www.dafont.com/mrf-funky-fresh.font
Drawing with Markers
https://www.dafont.com/drawing-with-markers.font
My Epic Selfie
https://www.dafont.com/my-epic-selfie.font
Cinnamon Cake
https://www.dafont.com/cinnamon-cake.font
KG Makes You Stronger
https://www.dafont.com/kg-makes-you-stronger.font
---