Spring holiday marketing provides you with great ways to  to reconnect with loyal customers and bring in new prospects.  Once the temperatures begin to climb, Spring fever comes over people who are itching to get out and about!  Draw marketing inspiration from the Spring holiday suggestions below and refresh your marketing for the season.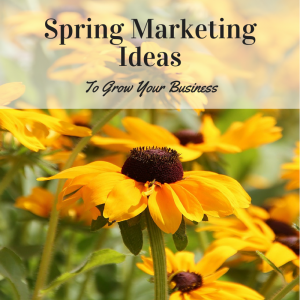 St. Patrick's Day – Show your customers how lucky you are to have them by sending them a thank-you postcard or notecard.  Share your luck with a coupon for the recipient.  Include an additional spread your luck refer-a friend discount to bring in new customers!
            First Day of Spring – Hold a spring contest.  Utilize double-sided rack cards that have your business information and specials on the front and the trivia questions on the back.  You can include them with current orders and mail them in #10 envelope to your prospects and customers.  Contest winners can grab great swag like an umbrella, t-shirt, potted plant kit or a water bottle!
            Tax Day – Tax day is dreaded by many.  Give people a (tax) break by handing out business card sized coupons for something free or a taxpayer's special.  Additionally, Promote your tax break on your social media outlets, in your newsletters, and by sending a press release to your local publications.
            Easter – Have an Easter egg hunt or Easter Bunny meet and greet at your location to bring in customers.  Send an Every Door Direct Mail (EDDM) piece to local routes to promote the event.  Give attendees candy wrapped with a custom candy bar wrapper.
            Mother's Day & Father's Day – Sales in the United States total more than $34 billion combined for both mother's and father's day.  Although similar, these prime retail holidays are similar yet tailor to a completely different audience.  Whether you have a product or service that appeals to both genders or just one, you'll want to stock up on gift certificates.
For more ideas on how to make your spring marketing pop, give Sarah a call at 731-9456 or email her at sarah@konhaus.com!