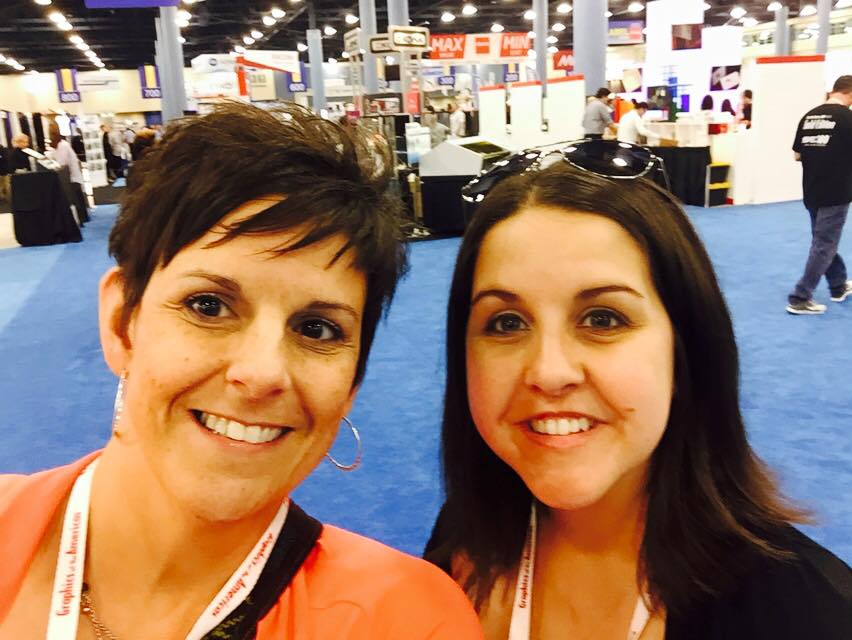 Sarah & Kyle just returned from the Graphics of the Americas trade show that was held in Miami Beach, Florida! Not only are they feeling tan & refreshed, but are excited to implement some of the great things that they learned during the conference.  Check out what they had to say about their trip:
Kyle and Sarah were lucky enough to spend time with top industry print and marketing experts.  They learned about cost effectiveness, technology, and direct marketing while at the conference.  They are bursting with ideas on how to use this new info to help your business or nonprofit maximize your marketing!  They spent time demoing the latest equipment and techniques to bring your projects to life and picked up some great tips and tricks to save you time and money.
Sarah learned more about large format graphics, branding, and defining target audiences.  She also learned great productivity tips to help guide clients through the marketing process so you can create a realistic schedule and manage workflow along the way.  If you're looking to redefine your current marketing or mailing strategies, you're going to want to give her a call now!
Kyle spent three days learning some of the newest  Adobe design secrets and can't wait to put them to use on your next logo, brochure, or postcard.  During Designer Power Hour, she received awesome real-world advice about  what designers from all over the country are doing to shake up traditional marketing with progressive designs.  We're guessing she also picked up a few new favorite fonts along the way!
We'll be sharing their new knowledge on Facebook, Twitter, Pinterest, LinkedIn and in future editions of Ahead of the Curve.  If you can't wait, give them a call today at 717-731-9456.