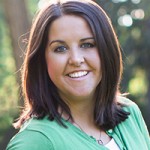 By Sarah Barr, Business Development Manager
Tuesday officially marked the first day of Spring. It's hard to believe considering we just experienced a major snow storm.  One thing is for sure, your clients have never been more anxious to THINK SPRING! This is great for business, especially if you're in the home improvement industry, because homeowners are ready to tackle those projects they've been dreaming about all winter.
Every Door Direct Mail (EDDM) is a great mail marketing program that you should consider incorporating into your marketing strategy.  Every Door Direct Mail (EDDM) is a simple yet powerful and affordable way to get your message out about your business to potential prospects in your area. Choose to mail postcards to a neighborhood, an entire city or a radius around a specific address without needing to purchase a mailing list. You don't even have to know the names and addresses…it's that easy!
If your business offers products or services for any of the following categories, then you should consider EDDM for your business.

Here are some ideas on what to promote to ensure a successful marketing campaign:
* Offer special incentives for prospects to sign up for seasonal or routine maintenance services.
*Blanket neighborhoods where you have recently completed services. Hopefully they have already seen your trucks/vans, yard signs, and door hangers. Make them feel comfortable knowing you have already helped their neighbor!
*Looking to hire help? Utilize this piece to advertise your hiring! Amazon even uses EDDM for hiring new employees!
*Design and print postcards and have them on standby when storms take place in the area. Drop your pieces in the mail at a time of need and make sure to tell them why they need your services.
*Tax Day is coming. Offer a special Tax Day break or coupon offer to schedule an appointment with you!
Do you already utilize Every Door Direct Mail? If so, comment below and share your success stories with us! We'd love to hear from you.