Tis the season to give!  That's why we're giving away Two tickets for dinner and The Christmas Campaign at Allenberry Playhouse to one lucky winner!  To enter all you need to do is write a review about Konhaus Marketing from December 1 – December 11.  You'll have two chances to win – one for a Facebook Review and one for a Google Review.  If you're wondering how to place a review – see the bottom of this post for directions.
The Christmas Campaign: Money is melting away at the North Pole! As Santa crunches numbers to keep up with kids' demands for high-tech toys, the elves fear financial ruin. So they hatch a plan to save Christmas: Create a marketing strategy! Brand Santa! Set up a social media blitz! But when some fancy ad men arrive at Santa's Village, will they rescue the season or destroy it completely?
We've reserved two tickets for dinner and this show on December 18 for one winner!  This giveaway is valued at $126.  You have until December 11 to write your reviews and be entered to win!  Good Luck!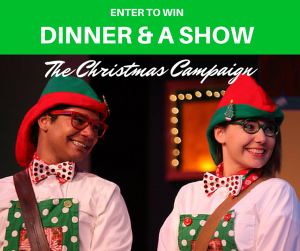 Google Plus – How to Write A Review
Click the pencil icon next to the cover photo to write a review.
Rate different aspects of Konhaus using the 1 to 5 star scale, and describe your experience with us in the box below.
When you're done, click Publish.
Facebook – How to Write A Review
Go to Reviews on the left side of our page's timeline (the section right under the map).
Click the Write Review button
Click the gray stars to choose a rating and write your review
Click Post