April Is Customer Appreciation Month!
Did you know April is Customer Appreciation Month? We all know our customers are the reason our businesses succeed, so it's important to show them how much their support means to you. It can be as simple as a thank you card, or you can take it up a notch with custom promo gifts or treats. When they know how much you appreciate them, they will call you the next time they need your products or services again.
You should strive to continually display your gratitude to customers in unique and memorable ways. If you don't currently have a system in place for this, Customer Appreciation Month is a great time to start! Show how much you care by doing one (or more!) of these 8 ideas.
1. Snail Mail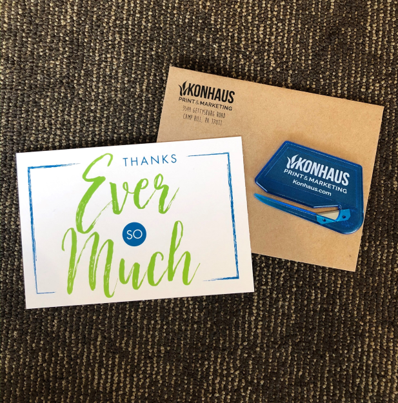 A branded thank you card is a simple yet effective way to let your customers know you are thinking about them. If you have a smaller budget, this is a great affordable option. Hand write a note on the inside to give it a personal touch!
2. Send a Treat
Take time to go visit your customers and give them some goodies! Drop by with donuts or cookies and coffee with a short and sweet message or treat them to a pizza party for lunch! Whatever it is, a small treat will be much appreciated and shows you care. They say the way to someone's heart is through their stomach!
3. Give some Swag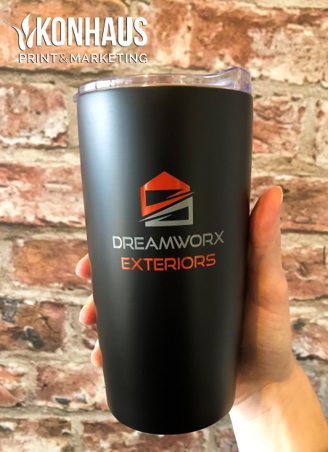 Not only are branded items an awesome gift to show your appreciation, but they also give your company consistent brand exposure. Take time to choose effective promo products that will get utilized often. Tumblers and mugs are some of our favorite items, because logo drinkware on average is used 2-3 times a week. Spending a little extra on nicer items goes a long way! We can help you choose the perfect swag items for employee/customer appreciation gifts, or upcoming events.
4. Charitable Gift
Choose some customers and offer to donate to their favorite non-profit in their name.
5. Party Time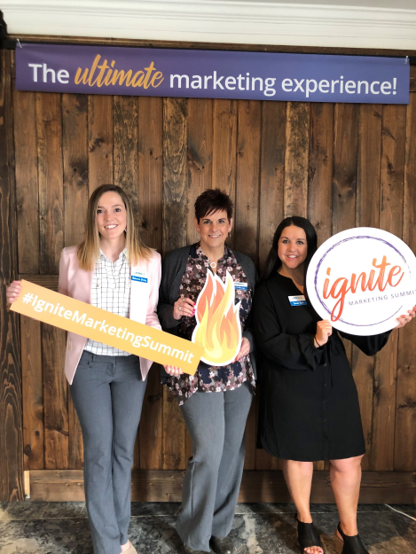 It's time to celebrate! In April, consider hosting a Customer Appreciation Cookout or have a special sale event. Send invites to top customers and make it feel exclusive or share the love with everyone and blast it on your social media. Don't forget to make it a party with some decorations, drinks, and music! Encourage attendees to share photos on social media using a custom hashtag. Don't forget to set up a photo wall with fun branded photo props!
6. Social Media Spotlight
Give customers a shoutout on your social media channels! Don't forget to tag their business page, check-in at their locations and use appropriate hashtags!
7. Video Message
Though you would love to visit all your amazing clients in person, that is not always realistic. Instead, record personal videos expressing how much you appreciate them. It's the next best thing!
8. Gift Cards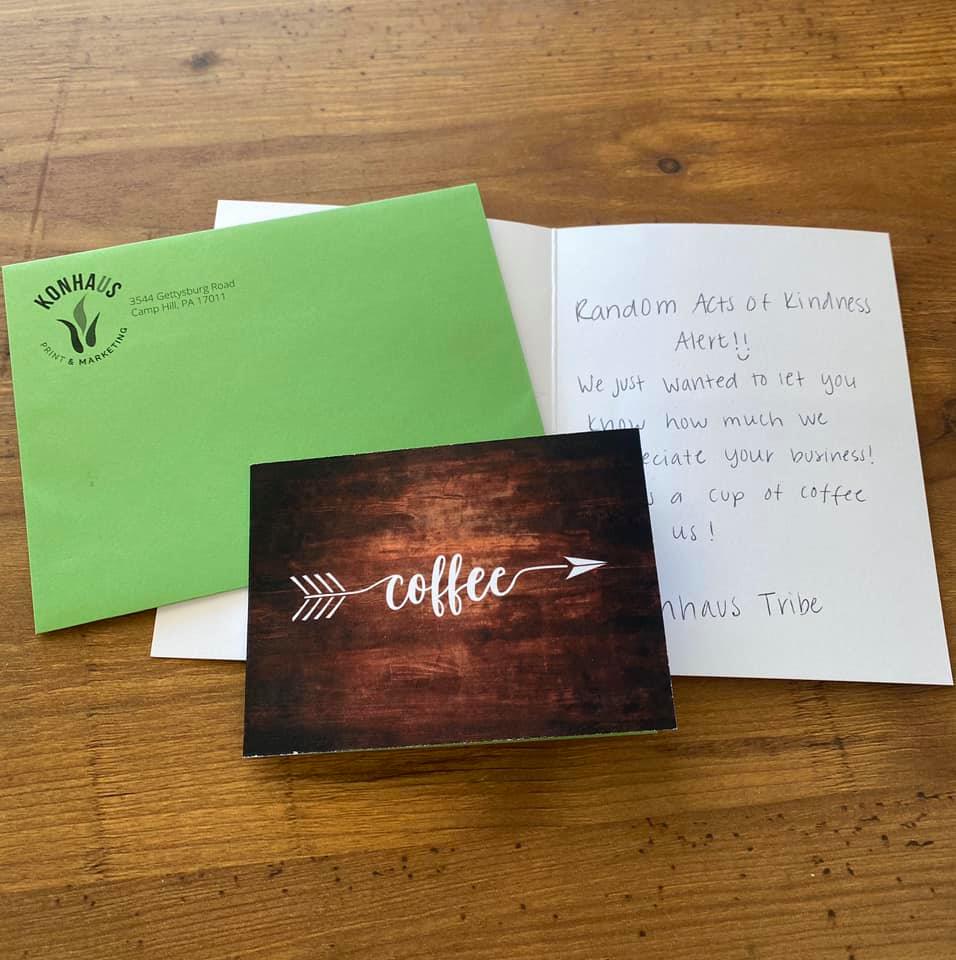 Sending a $5 Starbucks or Dunkin gift card to cover their morning coffee is a nice gesture that everyone appreciates. But if you want to take it a step further, get a little more personal. If you remember something specific they like, base your choice on that! If you know they enjoy drinking beer, consider a gift card to a local brewery. Going the extra mile to personalize their gift card to their taste will make them feel extra special.
Be creative and have fun with it! The thought behind the gesture is what really counts. Your customers should feel valued and appreciated not just in April, but all year!
For more promo ideas, check out https://konhaus.com/promo-products/
Makenna Dively – Client Services Coordinator