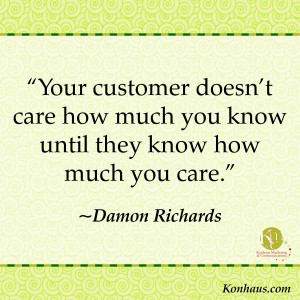 What is the single most important part of your business?  While your products and services can be amazing, the way you treat your customers is what makes you stand out above your competition.  Happy customers are repeat customers, so be sure to follow these 5 tips for stellar customer service!
Go The Extra Mile – Make sure that every interaction you have with your customers is personal.  By exceeding customer expectations you are building a genuine relationship.  Pay attention to smaller things and get in the habit of returning phone calls and emails quickly.  Don't forget about rewarding loyal customers with occasional discounts, rewards or freebies to show your appreciation.
Ask Questions –  Find out exactly what your customer expects before, during and after the sale. If there are any issues along the way, be sure to communicate clearly and quickly with what is happening and how you are addressing the issue.  Ask for feedback after the sale, making note of actionable comments.
Say Thank You  –  Express how happy you are to be working with your customers by saying thank you.  It can be as simple as a quick thank you email or as elaborate as sending flowers or treats.  When they know how much you appreciate them, they will call you the next time they need your products or services again.
Keep In Touch  – Actively look for ways to touch base with your customers.  Have you seen them in the news lately?  Are they celebrating a major milestone?  Show that you care by sending an email or quick note.  You can also keep communication lines open by having a newsletter and being active on social media channels.
Teach Something New – Sharing expert insight enhances the customer experience.  By providing information on relevant news and hot topics in your field, you're educating customers on your products and services without selling them.  Focus on giving great information relevant to your industry. You can educate customers by starting a blog, publishing a whitepaper, holding an informational seminar, or printing brochures and newsletters.
What is the most impressive customer service moment you've ever had? What do you do to impress your customers?  Comment below to share your stellar service ideas!