What will next year have in store for marketing?  No need to get out your crystal ball, we've kept our ear to the ground.  These three big marketing trends will be a necessity for great marketing throughout 2015.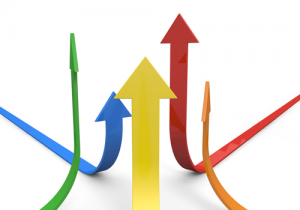 Marketing Personalization – Building genuine relationships with customers requires more work then a one-size-fits-most marketing approach.  When your interactions are relevant to the recipient, responses are 31% greater. Variable data allows you to talk to the customer not the crowd.  Even general marketing mail pieces will benefit from adding personal touches like first class stamps and return address labels.
Clean, Simple Design –  With consumers being constantly barraged by information, pieces that are easy to read, navigate, and act on will dominate their attention.  By pairing clean designs with snackable messages, marketers will stand out above the more than 3,000 marketing messages people see in a day!
Campaign Integration – With so many channels available, there will be an increased need for consistent messaging across all mediums.  On and offline marketing efforts will unite, providing customers with a 360 degree brand experience.  Many marketers will see an uptick on the back to basics approach, and those mastering campaign integration through direct mail and social media will receive the best results.
Augmented Reality (AR) – Marketers are staying ahead of the curve by providing an interactive experience with Augmented Reality (AR).  This instantaneous bridging of on and offline media will continue to grow and be adopted by more marketers throughout the year.  Since AR can be redirected for up to an entire year, businesses and nonprofits will cash in on it's ability to extend the life of printed pieces.

In order to reach your customers and prospects, you need to be willing to change and adapt to stay in the game and above your competition.  What are your marketing plans for 2015?